It's Time to Update Your Bands Collection
Get 30% Off Entire Order with Discount Code: HOLIDAY
Whether you are looking to personalize your Apple Watch, or you simply wish to add a touch of glamour to your outfit, our luxury leather bands are must-have pieces that over time will mold beautifully to your wrist.  We love leather because it offers a host of possibilities as far as texture and interplay of colors.  We give high priority to its quality, tanning & craftsmanship while focusing on making our creations durable, functional and easy to wear. 
Find out why our customers keep adding Juxli Home Apple Watch leather bands to their collection year after year and why they refer friends and family to our store.  We hope you find a band that you love and that you become part of our community.  We stand by our products.  If you are not happy with your purchase, simply return it for a refund. 
All bands are fully compatible with the Apple Watch Series 1, 2, 3, 4, 5, 6, 7, 8, Sport and Hermes Editions. 
Reviews
Fine craftsmanship, top notch quality and incredibly stylish and sophisticated design. I have received numerous compliments from colleagues and passerby's on this band. Seller is very professional, ships on time and has a very keen attention to detail. Definitely a fan for life!

mdrobinson27
I love all 3 of my cuff bands from Juxlihome.com. I have 1 in dark grey that I wear the most & 2 others in different shades of brown. I switch them out quite frequently & the quality is great. 5 Stars from me!!

REBECCA ALBARADO
I purchased this for my daughter, she really loved the color and look. I purchased this same band for myself about 5 months ago, it looks great and I get compliments on it.

Sandy R.
I love it! I have very small wrists and leather bands are typically uncomfortable for me. This band is very comfortable and I may get some other styles and colors in the future.

Sheri
LOVE LOVE LOVE! Rose gold hardware with a double wrap band with my beautiful rose gold Apple Watch. This is perfection!

J. Sacco
Beautiful! I immediately put one of the two I ordered! Well crafted and well priced! Amazing product!

chelsdoyle
I love this band! It is beautiful and quality! I get compliments on it from everyone! I'm waiting on the next color. :-)

Sandy C.
An incredible band with professional finish. Really blown away.

Faithless327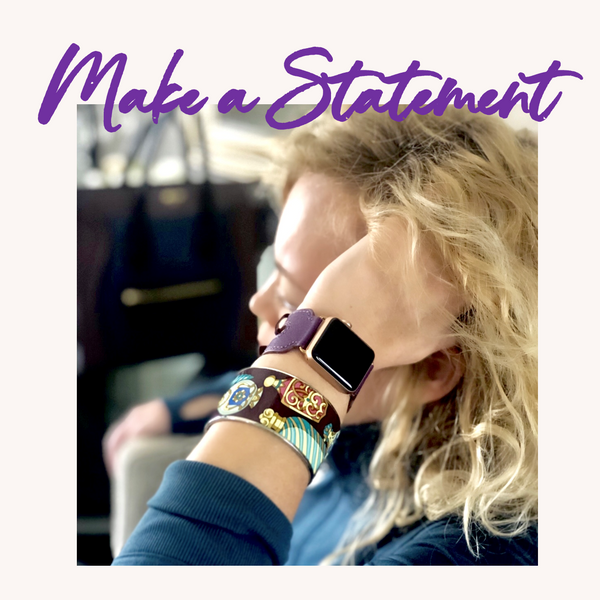 Ready to Style a Thousand Different Ways
Swap out summer's intricate accents, contrasting colors, and bold statements for fall's beautiful muted hues. This rasin purple double buckle Apple Watch strap is properly accessorized with autumn's darker shades.  It is opulently saturated with color and it pairs gorgeously with blues, greens and dark browns.
Its sleek silhouette that treads between a band and a cuff makes it easy to wear and is eye catching.  Discover more details about this item.
view
How Do You Style the Apple Watch?
We love the Apple Watch not only because of its awesome features and useful apps, but because it is so versatile when it comes to how to wear it.  You can customize it to look boho by adding mismatched layers of bracelets, wear it plain for a minimalist vibe, make it look dressy by pairing it with your nice jewelry, you can go for a chic look by layering dainty bracelets or opt for a girly look by wearing costume bracelets.  Whatever look expresses who you are (at that moment!), our leather bands will help you achieve it.  To inspire your own creativity, we have looked to our customers, fashion icons as well as our own imagination to bring you ideas on how to refresh the look of your Apple Watch with our luxury Apple Watch bands.
READ MORE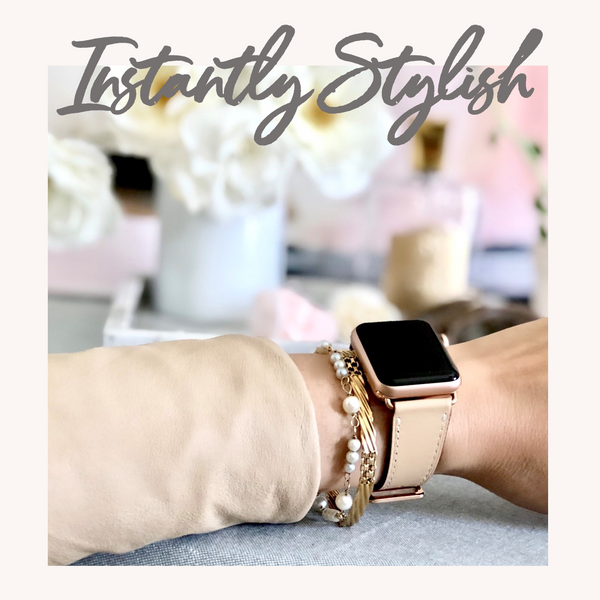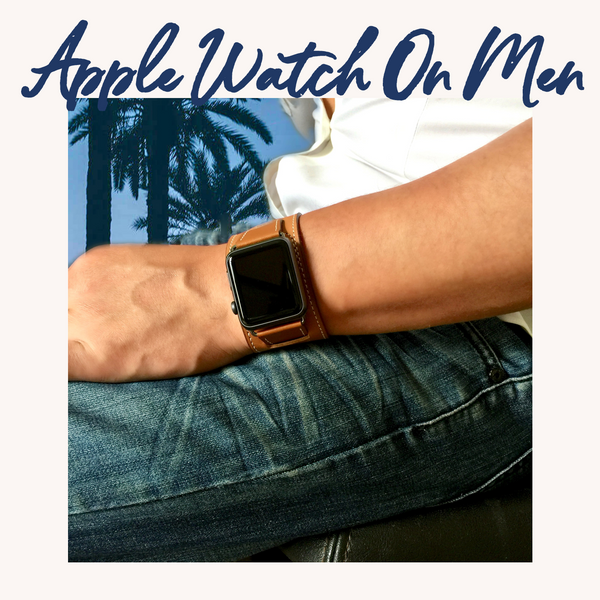 Guy-Approved Apple Watch Accessories
Wondering what gift to get your tech-obsessed boyfriend? You don't have to break the bank by getting him expensive gadgets.  An accessory for his Apple Watch could be just the gift you are looking for.  Check out our list of the best Apple Watch bands for men.  The models on our list are consistently favored by our male clientele.  Find the one that is just right for your sweetie!
READ HERE
Shop Our Collection of Easily-Interchangeable Apple Watch Leather Bands
Apple Watch Leather Bands
---
Double Wrap Apple Watch Leather Bands
---
Apple Watch Leather cuffs
---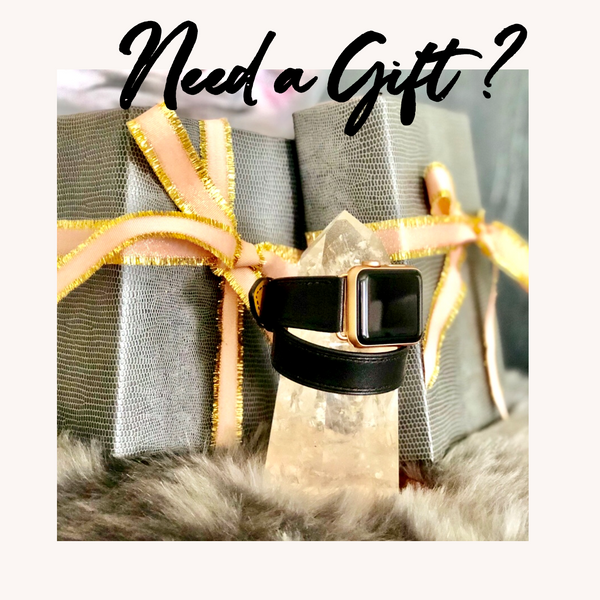 You're in luck!
Whether you're looking to purchase an Apple Watch strap for a man, a woman, or a teen, you'll find the best option here for even the pickiest person on your list.
 We will meticulously gift wrap your thoughtful present and ensure it is sent promptly to your loved one.  
We aim to please. 
Not sure what to get? Give them the gift of choice with a Juxli Home gift card.
SHOP NOW